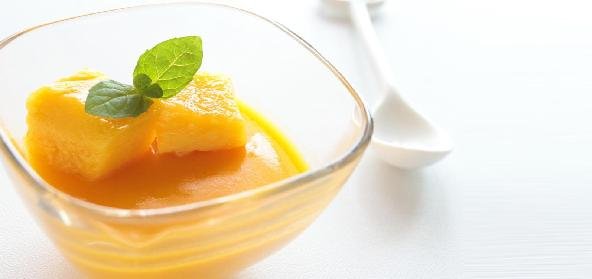 Ingredients:
• 4 – mangoes
• 200 g – fresh Cream
• 6 to 8 tbsp – powdered Sugar
• 1 tbsp – gelatin mixed with 1/2 cup water
• 8 pieces – sponge cake
Method:
Cube the flesh of 2 mangoes and pulp the flesh of the remaining 2 mangoes.
Beat the cream with the powdered sugar.
Mix the gelatine with 1/2 cup of water and double boil it until the gelatine granules have dissolved.
Now take a bowl, powder the sponge cake and press it down on the base of the bowl. Sprinkle with milk to moisten the base.
Then add the mango cubes as the second layer.
Finally, mix the beaten cream, gelatine and the mango pulp together and pour it over the mangoes cubes.
Freeze for half an hour and then chill in the fridge.
Recipe courtesy of Babita