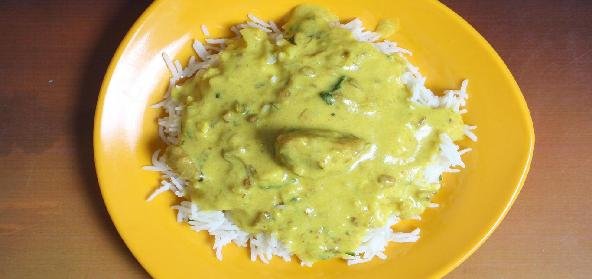 Ingredients:
• 1 ripe – Mango
• 6 to 7 – Green chillies
• 4 tbsp – Coconut
• 3 cups – Curd
• 1/2 tsp – Fenugreek seeds
• 1 tsp – Mustard Seeds
• 2 – Red Chillies
• 1 tbsp – oil
• Salt to taste
• Turmeric powder – a pinch
• Curry leaves – a few
• 1 tbsp – Coriander leaves.
Method:
Cut the ripe mango into two halves and boil in water for about 10 mins.
Let it cool and then squeeze out all the pulp and remove the skin and seed.
Grind the coconut and green chillies by adding a little water to make a paste.
Add this to the mango pulp along with salt, turmeric powder and curry leaves.
Heat till the raw smell disappears and then add the curd on low heat.
Do not heat for more than 2 mins after the curd is added.
For garnishing, heat a tsp of oil in a little kadai, add broken red chillies, fenugreek and mustard seeds and let it splutter and add this to the kadi along with the finely chopped coriander.
Recipe courtesy of Subashini Karthik