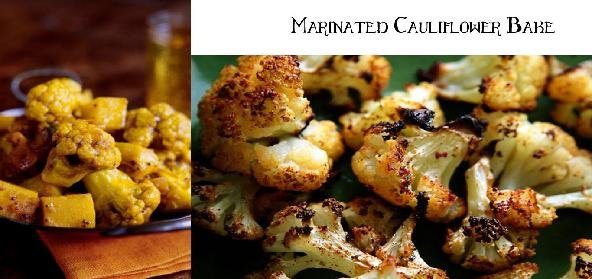 Ingredients:
• 1 large Cauliflower
• 2 cups – Curd (tie up for 1 hour)
• 1/2 tsp – garlic, grated
• 1/2 tsp – ginger, grated
• 1/2 ts – Mint leaves, chopped
• 1/2 tsp – crushed Red Chillies
• 1/2 tsp – tandoori masala
• 1 tsp – Sugar
• salt to taste
• 1 tbsp – Butter
• For seasoning
• 1 tsp – Butter
• 1 tbsp – Spring onion greens, finely chopped
Method:
Cut cauliflower into large florets.
Clean well and immerse in plenty of salted boiling water.
Keep for 5-7 minutes.
Drain and run under cold water.
Pat dry with a clean kitchen towel.
Mix all other ingredients well to form a smooth marinate.
With a kitchen brush apply marinate all over the florets.
Apply as much as possible in the gaps too.
Place in a greased shallow baking dish.
Place in a hot oven, bake till the marinate dries up and floret is tender.
Heat butter, add spring onion and stir-fry for 2 minutes.
Pour over the baked cauliflower and toss lightly with a fork.
Sprinkle some chaat masala if desired.
Serve hot.
Recipe courtesy of Sify Bawarchi