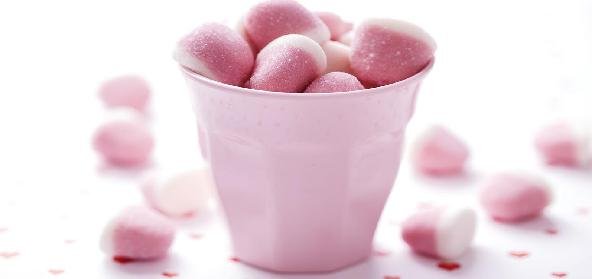 Ingredients:
• 2 tbsp – Gelatine
• 1 tsp – Vanilla essence
• 250 g – Sugar
• 2 tbsp – Icing Sugar
• 1/4 tsp – Pink food colour.
Method:
Soak the gelatine in 1/2 cup cold water and keep aside until it dissolves completely.
Meanwhile, melt the sugar with 1/2 cup of water in a pan. Cook on a low heat.
Now add the dissolved gelatine mixture, mix well and let it boil.
Cook on high heat for about 6 to 8 mins without stirring.
Remove from heat and add the vanilla essence and the food colour when still warm.
Now beat it well with a fork or egg- beater until fluffy.
Pour this mixture into a cooled dish.
Refrigerate until it sets.
Cut into squares then roll in icing sugar.
Serve cold.
Recipe courtesy of Bridget White