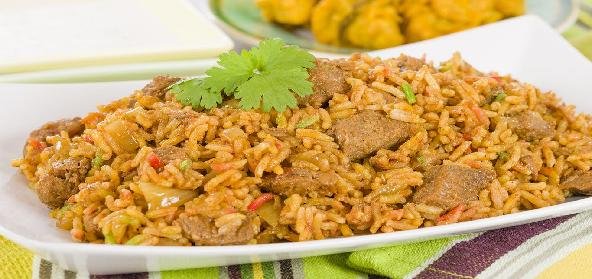 Ingredients:
• 450 gms – rice, washed, soaked for 40 mins
• 500 gms – lamb, Beef or Chicken pieces
• 250 ml – water
• 4 tsp – crushed Garlic
• 4 green chillies, whole or chopped
• 3 tbsp – oil
• 1 large onion, sliced
• 2 tsp – Cumin seeds
• 3 Cardamom pods
• 2 x 2.5 cm (1 inch) stick Cinnamon
• 8 Cloves
• 8 Black Peppercorns
• A handful of chopped Coriander leaves
• 150 gms – peeled, chopped Tomatoes
• 6 small potatoes, peeled and cut into halves
• 250 ml – (1/2 pt.) stock or water
• Salt to taste
• 25 gms – Butter or margarine
Method:
Wash and soak the rice, then drain it.
Put the meat or chicken in a saucepan with the measured quantity of water, add half of the garlic, ginger and chillies and cook for 30 mins, until tender.
Heat the oil in a separate saucepan.
Add the onion, cumin seeds, cardamom pods, cinnamon, cloves and peppercorns.
When the onion has softened, add the remaining garlic, ginger and chillies and cook for 2 mins.
Next, add the meat or chicken, the coriander, tomatoes, rice and potatoes.
If the meat has been pre-cooked add the resulting stock, made up to 250 ml with more water if required.
If the meat has not been pre-cooked, just add the same quantity of water.
Add salt to taste, bring to boil, cover and simmer over low heat for 40 mins, until the rice is cooked.
Add the butter or margarine in blobs while the pulao is hot.