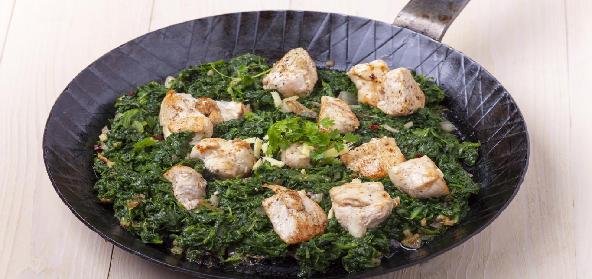 Ingredients:
• 1 kg – Chicken
• 1 cup – Yoghurt
• 1.5 cup – Ghee
• salt to taste
• Whole Garam Masala:
• 5 green Cardamoms
• 1 black Cardamom
• 5 Cloves
• 1 inch – stick Cinnamon
• 1 Bay Leaf
• 1 pinch Mace
• 1.5 cups – Onion
• 3 tbsp – Garlic
• 5 tbsp – Ginger
• 6 Green chillies
• 1.5 tsp – Turmeric
• 1 tsp – coriander powder
• 1 tsp – Red Chilli powder
• 1 cup – Tomatoes
• 2 tbsp – Fenugreek
• 1.5 cup – coriander
Method:
Clean chicken, remove the skin and cut each into 8 pieces.
Marination: Whisk yoghurt in a large bowl, add salt and leave the chicken in this marinade for at least 30 mins.
Peel, wash and chop onions.
Peel and chop garlic.
Scrape, wash and chop 3 tbsp ginger, cut the rest into juliennes for garnish.
Remove stems, wash, slit, de-seed and chop green chillies.
Wash and chop tomatoes.
Clean, wash and chop coriander.
Heat ghee in a pot, add whole garam masala and saute over medium heat until it begins to crackle.
Add onions and saute until golden brown.
Then add chopped garlic, ginger and green chillies, stir for 2 mins.
Add turmeric, coriander powder and red chillies dissolved in 1.5 cup water and stir for 30 seconds.
Now add tomatoes and fry until the fat leaves the masala.
Add the marinated chicken along with the marinade and water (approx. 1.5 cup), bring to a boil. Cover and simmer until chicken is almost cooked and the fat leaves the masala once again.
Adjust the seasoning.
Sprinkle fenugreek, ginger juliennes and coriander. Cover with a lid.
Seal the pot with dough and put it on pressure in the pre-heated oven for 15 mins (350 F).
Open the pot at the table and serve with bread.