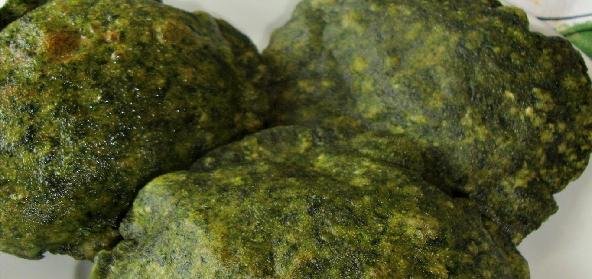 Ingredients:
• 1 cup – Wheat flour (atta)
• 2 bunches – Methi leaves
• 2 – Green chillies
• Salt to taste
• 1 tbsp – water
• Water as needed
• 1/4 liter – oil
• Ingredients for Masala:
• 4 – big size Potatoes
• 1 – Onion
• 1 – Tomato
• Salt to taste
• 1 tsp – Mustard Seeds
• 2 – Green chilli
• 1 tsp – Channa dal
• Coriander leaves – few
• 1/4 tsp – Turmeric powder
• 1 tbsp – gingili oil
Method:
Pressure cook the potatoes and once cooked, remove the skin and break it into small pieces.
Finely chop the onion and tomato and green chilli and keep it aside.
In a heavy bottomed pan, add gingili oil and add mustard seeds when the oil is hot.
When the mustard seeds starts to sputter, add channa dal and fry until it becomes golden red colour.
Now add turmeric powder, along with chopped green chillies, tomato and onion.
Fry it till tomato and onion are cooked completely.
Now add cooked potato pieces and mix it well along with salt
Add required water and make the consistency little thin so that it will be like gravy.
Finely garnish with chopped coriander leaves.
The delicious Potato masala is ready to serve with poori.
Method to make Poori:
Take the wheat flour in a bowl and add salt and keep it ready.
Clean the methi leaves and finely chop the methi leaves. Grind it along with green chilli to a paste.
Add the methi-green chilli paste to the wheat flour.
Sprinkle little water and knead it to a tight dough. We should not keep the methi leaves-green chilli paste aside after grinding then the paste will start to taste bitter. Immediately after grinding the paste, we need to mix it with the wheat flour to make a dough.
Make small balls of the wheat flour.
Take one ball of wheat flour and roll it to 4-5 inch poori using a rolling pin. The same way make other balls of wheat flour.
In a heavy bottomed pan, pour the oil and when the oil is hot, gently put the rolled dough.
Immediately start flickering hot oil over the top of it with a spatula so that it will swell up like a ball.
This should take only a few seconds. Flip the poori over and cook the other side until golden brown.
Poori is ready to serve with masala.
Recipe courtesy: Subbu's Kitchen.
Recipe courtesy of Subbalakshmi Ranganathan