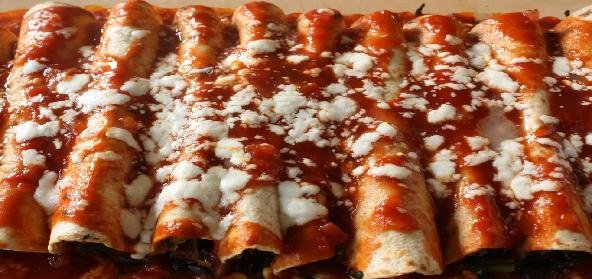 Ingredients:
• 10 – flour tortillas (101/2 large)
• 1 – medium Onion finely chopped (1/2 cup Spring onions can be used)
• 1 – green paper (bell paper) finely chopped
• 2 cups – shredded Lettuce
• 1 can (16 oz) – fat-free refried beans
• 1 packet – taco seasoning mix
• 1 can – enchilada sauce
• 1 small can (8 oz) – Tomato sauce
• 1 cup – chunky salsa
• 1/2 cup – chopped fresh Cilantro
• 1/2 cup – finely chopped fresh jalapeno or Green chillies
• cumin powder
• chilli powder
• 1 cup – shredded cheddar cheese
• 2 cups – water
• oil for frying
• salt to taste
Method:
Cut flour tortillas into 1 inch squares and deep fry in oil till golden brown; keep aside.
Place the refried beans in a large saucepan. Cover the beans with 1 inch of water, and stir in 1 pack of taco seasoning mix.
Place over low heat for 10 minutes, stirring occasionally.
Place enchilada sauce in another saucepan and mix with small can of tomato sauce.
Add cumin powder, chilli powder and salt to taste.
Use water as needed to achieve desired consistency.
Bring to a boil over high heat.
Then reduce heat to low, and simmer for 5 minutes.
Now take fried tortillas in a serving plate, topped with hot seasoned refried beans and enchilada sauce mix.
Sprinkle cheddar cheese to get melts.
And mix all the other ingredients to it: onions, green paper, and shredded lettuce.
Top with chopped fresh cilantro.
One can add salsa and jalapeno if you like it really hot.
Recipe courtesy of Desai, Kaity