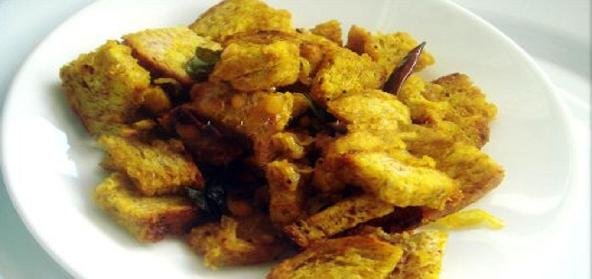 Ingredients:
• 6- Whole Wheat bread slices (cubed)
• 1- Onion (big and chopped finely)
• 2- Green chillies (slit opened)
• 1 tsp – Ginger (minced)
• 1 tsp – Mustard Seeds + Urad Dal
• 1/2 tsp – Channa dal
• 3- Dry Red Chillies
• 1/4 tsp – Asafetida powder
• 1/4 tsp – Turmeric powder
• Curry leaves
• Oil
• Salt to taste.
Method:
Heat oil in a microwave safe bowl for 2 minutes on high, add the mustard seeds, urad dal, channa dal, dry red chillies, asafoetida powder to the oil and cook in a microwave oven for 5 minutes on high until the dals turn golden brown.
Now add the chopped onions, minced ginger, slit opened green chillies, curry leaves and cook everything again on high for 10 minutes (stir in between) along with turmeric powder and salt.
Now add the cubed bread chunks, toss everything gently until everything mixes with the spices.
Cook again for 10 minutes on high (stir in between).
Serve with ketchup or spicy chutneys.
Recipe courtesy: Priya Easy N Tasty Recipes.