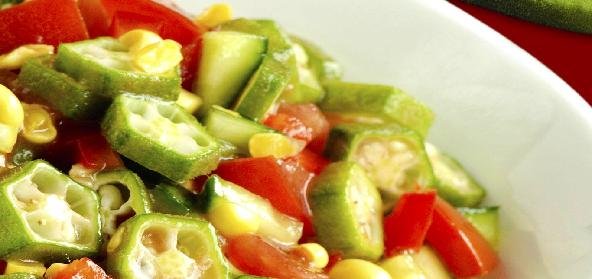 Ingredients:
• Okra – 20 to 25
• peas – 1/2 cup
• Potato – 1 small, boiled, peeled and cubed
• Tomato – 2 big
• Onion – 1 big
• Jeera – 1tsp
• Ginger Garlic paste – 1 tsp
• chilli powder- 1 tsp
• oil
• salt to taste
Method:
Slit okras completely and cut them into bite sized pieces.
Take a kadai and fry the okras in 2tbsp of oil on a medium flame till the sliminess goes away from okra. Keep it aside.
Boil the peas in microwave till it gets cooked.
Cut onion and tomatoes very finely.
Take 2 tsp of oil in a kadai. Add jeera. Add onions and fry till golden brown.
Add the ginger garlic paste and tomatoes. Once tomatoes get cooked, add the salt, turmeric and chilli powder and fry.
Add boiled peas and okra. Saute for 2 mins. Serve hot with roti or naan.
Recipe courtesy of Tina Kiran Patel