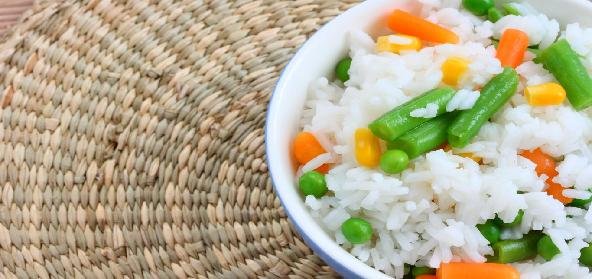 Ingredients:
• 1.25 cup – brown basmati Rice
• 3/4 cup – whole red lentils (masoor dal)
• 3 – small Bay Leaves
• 1.5 – medium sized yellow Onion (cut fine)
• 1.5 cups – mixed vegetables ( like cauliflower, Carrots and peas, cut into 1/2 inch pieces)
• 1 tbsp – Ghee
• 1 tsp – Cumin seeds
• 1/8 tsp – Asafoetida (hing)
• 1/8 tsp – Turmeric powder
• salt to taste
• chilli powder according to taste
• handful of Cilantro washed and cut fine
Method:
Mix brown basmati and whole red lentils in a large bowl and mix together. Add water to it, swirl a couple of times and drain the water. Repeat. Place the rice and lentils in a large pan with the bay leaves and sufficient water to cook the rice and lentils and simmer on medium heat until the rice and lentils are cooked and not mushy (or place the rice, lentils and bay leaves with water in the rice cooker and cook until done).
Remove the bay leaves and discard. Keep the cooked rice and lentils aside.
Heat ghee in a heavy bottomed pan and add cumin seeds to it.
When the seeds start crackling, add asafoetida, turmeric powder and quickly saute for a second.
Add cut onions and saute until the onions turn transparent.
Add vegetables and sprinkle a little water, a pinch of salt and cook until the vegetables are soft but not mushy.
Add the cooked rice and lentils to it, add chilli powder, salt to taste and mix well.
Let it heat on low all the way through for a few minutes.
Garnish with cilantro and serve hot with raita and papad.
Recipe courtesy of Usha