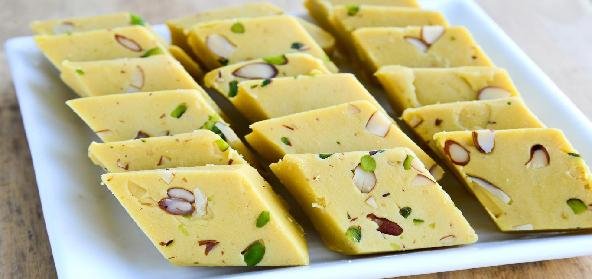 Ingredients:
• 250gms – skinned moong dal (washed and soaked for 3-4 hours)
• 275gms – Sugar
• 125 gms – khova,
• 50 gms – Almonds
• 1/2p – Cardamom powder
• 1/4p – Saffron strands
• few drops yellow food colour
• 2 tbsp – Milk
• 250gms – Ghee approx.
• 2 cups – water
Method:
Drain moong dal, grind in electric or stone grinder, using minimal water.
Grind till fine, light and fluffy.
Beat with hand if required to make fluffy. Keep aside.
Lightly roast khova, stirring continuously, till light brown and crumble.
Keep aside to cool, crumble or pass through large holed sieve, keep aside.
Grind almonds in a dry mixie, till textured like bread crumbs, keep aside.
Rub saffron strands in 1 tbsp hot milk, till well dissolved, keep aside.
Put sugar and water in a large vessel.
Heat half the ghee in a large heavy saucepan.
Add dal, stir and cook, carefully, without burning at the bottom.
It will be very sticky at first. Gradually, it will become easier to handle.
Add ghee in between, little by little, as required.
When it stops sticking to pan, and bubbles, stir and cook till light brown and aromatic.
Take off fire. Add khova, almonds, cardamom, and keep aside. Put sugar to boil, and cook till it forms a soft ball on putting a drop on a cold surface – Syrup drop should not feel watery on cooling.
Add saffron, stir, and pour into dal mixture.
Stir very gently to blend well. Do not overmix or the burfi will become hard and paste-like.
Pour into a greased tray or plate, do not rub spoon over it. Allow to settle, and cool to room temperature.
Mark out squares as desired.
When fully cooled, remove carefully, with a metal spatula.
Store in airtight container.
Recipe courtesy of Saroj Kering