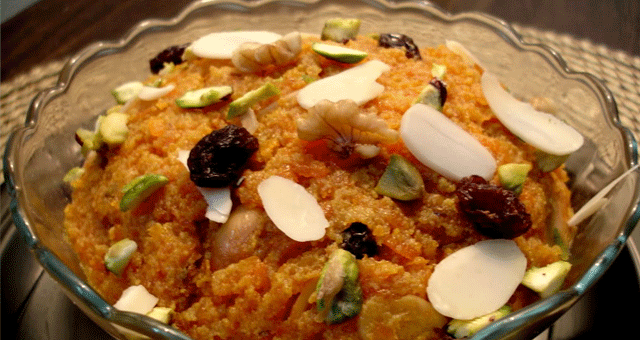 A classic Rajasthani recipe. In Indian culture halwa is made during the special occasions like Ganesh Chaturthi, Holi, Navratri, Diwali and many others. Moong Dal Halwa is time consuming recipe so you need patience to cook it. But once it's cooked it is so mouthwatering and you can stop yourself by eating it again and again. You can also make it and store it in refrigerator for 2-3 days. Just heat it and some milk to it and its ready to serve. Let's make Moong Dal Halwa with this easy recipe.
Ingredients:
– 3 cups of yellow moong dal (split yellow lentil)
– 1 cup sugar
– 4 tablespoon cup ghee
– 1 tablespoon cardamom (splits)
– 3 cups of water
– 1 cup milk
– A pinch of saffron strands
– Dry fruits (chopped)
How to Cook?
1. Soak the month dal in required water for 5-7 hours.
2. After that drain and grind the moong dal to a smooth paste. If not required than avoid using water.
3. Now, to make sugar syrup, heat the flame and put the pan over it.
Add 2 tablespoon sugar and 1 cup water to it and let it boil for 2-4 minutes. Once the sugar syrup becomes slightly thick remove it from the heat and keep it aside.
4. Now, add cardamom into sugar syrup.
5. In another frying pan heat ghee or butter.
6. Then add dal paste and keep stirring it until it turns golden in color.
7. Now, add 1 cup milk to the dal paste and again cook it for 4-5 minutes or until it becomes thick.
8. Now, add the previously made sugar syrup into the paste.
9. Then remove it from the flame and garnish it with chopped nuts and serve.
Preparation Time: 10 Minute
Cooking Time: 40 Minute
Servings: 4-5 Persons