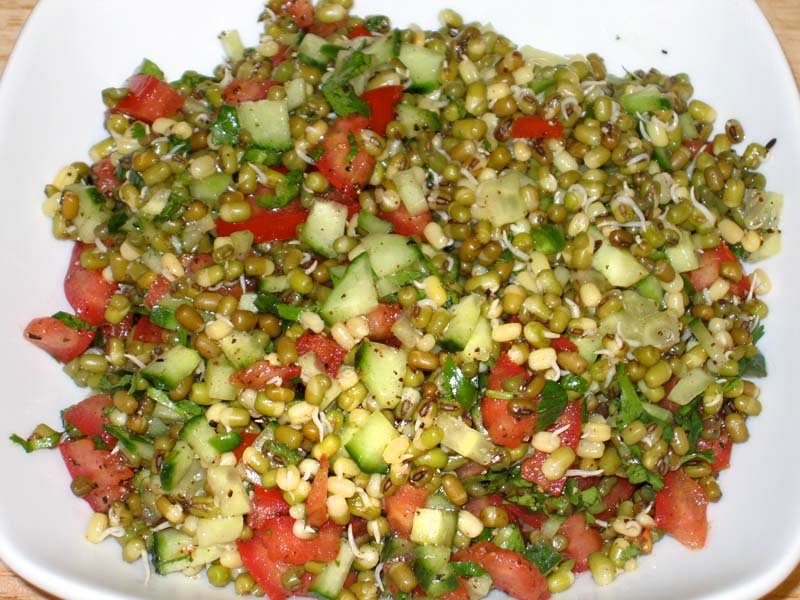 Fresh and juicy moong dal salad
Ingredients:
1/2 cup chopped cucumber
1/2 cup chopped carrot
1/2 cup chopped tomato
1/2 cup chopped cabbage (or lettuce)
1/2 cup onion chopped (optional)
2-3 chopped green chilies (optional)
1 1/2 tablespon green gram pulse (dhuli moong dal) soaked in water for 20 minutes
1 tablespoon lemon juice
1 tablespoon chaat masala
1 tablespoon coriander chopped
Salt to taste
1/2 teaspoon mustard seeds
1 teaspoon oil for tadka

Method:
1. Mix cucumber, carrot, tomato, cabbage, onion, green chilies, dal in a bowl.
2. Add lemon juice, chat masala and salt.
3. Now to prepare tadka take a small sauce pan and heat oil, add mustard seeds and allow it to crackle.
4. Remove from heat and mix tadka in the salad.
5. Mix well with spatula.
4. Garnish with green coriander and serve.
Cooking time: 15 minutes