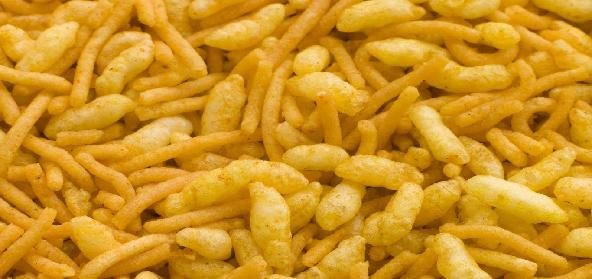 Ingredients:
• 2 litres – puffed Rice (murmure)
• 2 tbsp – Peanuts
• 3 to 4 Clove – garlic, crushed
• 1/2 tsp – each mustard and Cumin seeds
• 1/2 tsp – Turmeric
• 1 tsp – Sugar
• 2 stalks – Curry leaves
• 2 tbsp – oil
• Red Chilli powder to taste
• salt to taste
Method:
Heat oil in a large frying pan. Add peanuts, deep fry them until done drain and keep aside.
In the same oil, add cumin and mustard seeds let them splutter.
Now add curry leaves, put crushed garlic fry until golden brown. Don't over fry garlic.
Now put chilli powder, turmeric powder, asafoetida and sugar mix it well.
Now put fried peanuts and murmure and mix it well.
Let it cool down.
Taste it before storing it in a airtight box.
Put more salt and chilli powder if needed.
Now it is ready to store.
Recipe courtesy of Namita Nooli