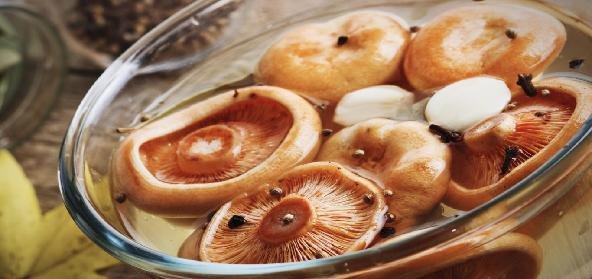 Ingredients:
• 1/2 kg Mushroom
• 1 tsp salt
• 1 tsp Red Chilli powder
• Vinegar
Method:
Cut, wash and clean the mushrooms. Marinate the mushrooms with the salt for 45 minutes. Sprinkle red chillies on the mushrooms.
Put the salted mushrooms in a pan.
Put the pan on low flame.
When the water stars oozing from the mushrooms, increase the heat.
After 5 minutes, put enough vinegar to cover the mushrooms.
Let it cook for 5 minutes.
Remove from the fire and let the mushrooms in the vinegar cool down.
Drain the mushrooms and put in air-tight jar.
Boil the vinegar again and then pour on mushrooms in the jar.
Let it cool.
Cover with lid.
Store in cool place.
Use the pickle after 2 weeks.
Recipe courtesy of Meera Soni