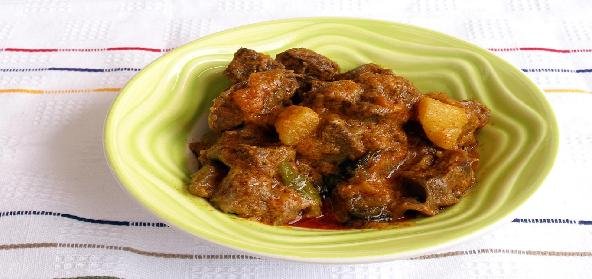 Ingredients:
• 1.5 pounds – Mutton, washed well and cut into 2 inch pieces
• 3-4 – large potatoes, peeled and cut into 4 pieces each (if the pieces are smaller, they will disintegrate while pressure cooking!)
• 2 – large onions, finely chopped
• 1 – large tomato, finely chopped
• 2 to 3 spoons – Ginger-garlic paste
• 2 – Red Chillies
• 3 to 4 – Green chillies, slit
• 1 spoon – each Jeera, Dhaniya powder
• A pinch of Garam Masala
• 1/2 tsp – Red Chilli powder
• Pinch of Turmeric
• 2 to 3 – Cloves
• 1 inch – Cinnamon stick
• 2-3 Cardamom pods
• 2 – Bay Leaves
• 2 tsp – Curd.
Method:
Marinate for an hour or so the mutton pieces with the onions (2/3 of all the onions cut), tomato, green chillies, ginger-garlic paste, 1 bay leaf, the whole garam masalas, curd and the masala powders (not the garam masala powder). Do not add salt at this point. Fry the potato pieces lightly with some salt and turmeric. Keep aside.
To the skillet, add some oil, add the bay leaf, the red chilli and roast till red.
Then add the rest of the onions and fry till golden brown.
Add the mutton pieces along with the marinade and salt. Keep stirring and frying on medium-low heat till the mutton pieces are fried a bit and you can see the oil separating (it should take you at least 30 mins to get to this stage).
Add the fried potato pieces and stir some more.
Add hot boiling water (quantity depends upon the amount of gravy you want but do not add too much water).
Pressure cook up to 3 whistles. Turn off the heat.
Carefully uncover the pressure cooker, add the garam masala, stir once and cover again.
Serve hot after 5-10 mins (to let the flavours settle). Try with either rice/rotis, lemon slices and an onion salad.
Recipe courtesy of Madhumita