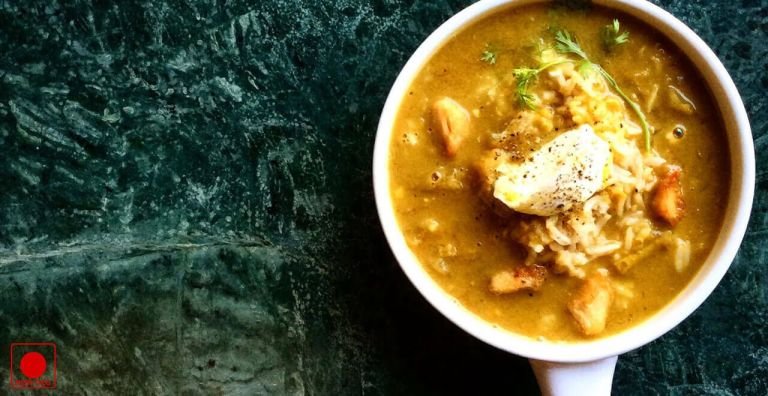 Mulligatawny is an English soup after an Indian recipe. It's a traditionally Tamil recipe and can be translated as ?pepper-water? You can make the mulligatawny soup with chicken, lamb or mutton with fried onions, curry powder and other Indian spices. Today I am sharing a mutton mulligatawny soup recipe that is rich in taste with spicy curry base. It's a best winter warmer dish during the winter days. This soup is very thick which can also be eaten with rice. You can also use leftover meat and make the soup with some good quality of mutton stock. Follow these easy steps to make this soup.
Ingredients:
– 2 cup mutton
– Water as required
– Few leaves of curry leaves
– 1 cup oil
– 2 cup chopped tomatoes
– 1 tablespoon garlic paste
– 2 cup onion, sliced (Deep fry it and use for garnishing)
– A small piece of cinnamon
– 1 tablespoon garam masala
– A few methi seeds
– 1 cup boiled rice
– Salt to taste
– 2 cup coconut milk
How To Cook?
1. In a heavy bottomed pan, add mutton, water, oil, tomatoes, garlic paste, onion, garam masala, methi seeds, coconut milk and curry leaves and cook for 15-20 minutes till the meat and tomatoes are well cooked.
2. Now, remove the meat pieces and cut into small pieces and keep aside.
3. Strain the cooking liquid and put it in the pan, then add coconut milk and cook further for 5-10 minutes and then add salt to it.
4. Now, add meat pieces and cook further.
5. Correct seasoning and serve very hot, garnish the soup with boiled rice, fried onions and small meat pieces and serve hot.
Preparation Time: 15 Minutes
Cooking Time: 30 Minutes
Servings: 2 Persons