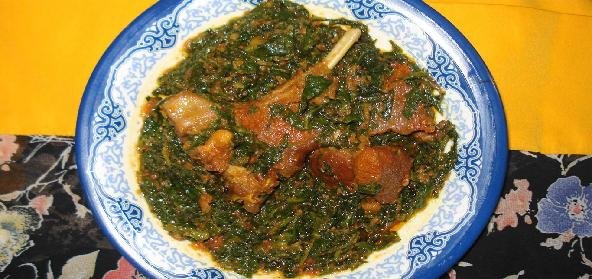 Ingredients:
• 1 lb Mutton chops
• 2.5 cups – fresh Spinach leaves puree
• 1 cup – onions, chopped
• 1.5 tsp – Turmeric powder
• 1.5 tsp – Red Chilli powder
• 1.5 tsp – cumin powder
• 1 tbsp – ginger/garlic paste
• 4 Green chillies (slit lengthwise)
• 1.5 cup – fresh coriander, chopped
• 3 fresh tomatoes, diced
• 1.5 tsp – Fenugreek seeds
• 1 tsp – Garam Masala
• 1 dessert spoon fresh Cream
• 1.5 cup – Ghee
• salt to taste
Method:
To make Spinach Puree:
De-steam and wash fresh spinach leaves (palak).
Place them in a large cooking pot with little water.
Add pinch of salt.
Half cover the pot with the lid and cook on medium heat till the leaves get tender.
Cool and grind to a fine paste in a wet grinder.
Place a medium sized cooking pot on medium heat, add ghee and chopped onions and fry till golden brown.
Add turmeric, red chilli and cumin powder, ginger/garlic paste, fenugreek seeds and fry approx. for 2 mins.
Add mutton and fry well till brown.
Add green chillies, coriander leaves, tomatoes and stir for a minute.
Add enough water to cover the mutton pieces.
Cover the pot and cook till the meat is nearly done.
Fold in the spinach puree till the curry gets a brighter green colour.Add the garam masala; simmer on low heat till oil separates from meat.
Garnish with thin strips of ginger and spoonful of fresh cream.
Serve hot with bread/fried rice.