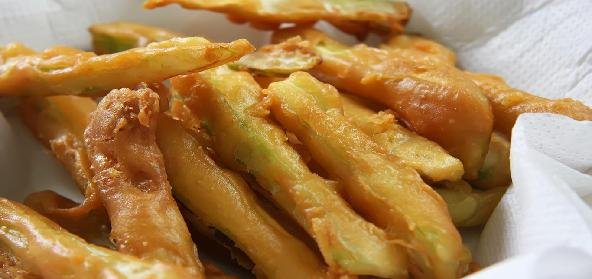 Ingredients:
• 250 g – tender lotus stems, peeled and sliced
• 1.5 cup – Rice flour
• 1 tbsp – plain flour
• 1/2 tsp – Cumin seeds
• 1 tsp – red chilli, crushed
• 1 tbsp – hot oil
• To deep fry – oil
• To taste – salt
Method:
Sprinkle salt over the sliced stems, toss and keep aside for 15 mins.
Mix both the flours in a large bowl.
Add cumin seeds, chillies, salt and mix.
Add enough water, to make a batter thick enough, to coat the back of a spoon.
Heat oil to deep fry.
Dip one slice of stem, at a time, into the batter.
Let into the hot oil gently.
Repeat till there are enough to fry in one batch.
Fry on medium heat, till golden and crisp on one side.
Flip gently and repeat for other side.
Drain on absorbent paper and serve hot and crisp.
If desired, sprinkle some pepper powder or chat masala or sauce over fritters.
Recipe courtesy of Saroj Kering