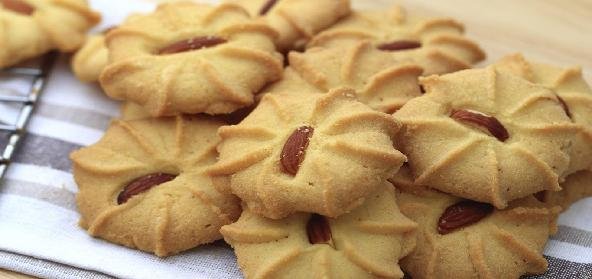 Ingredients:
• 1/2 kg – All Purpose Flour
• 1/4 kg – Ghee
• 1/4 kg – Sugar
• Cardamom powder
• Pistachios for decoration
Method:
Sieve all-purpose flour twice. Mix ghee and sugar.
Beat well (on low speed) or mix with hands until sugar dissolves completely.
Add flour alternately mixing with hands. Knead well to form a smooth dough.
Make small balls of this dough and flatten them. Decorate each flattened ball with pistachio on top. (Use milk to stick the pistachios.)
Preheat oven to 375 degrees F
Place all the cookies on an ungreased baking sheet and bake for 20-25 minutes or until they turn off-white.
Cool and store the cookies in airtight container.
Recipe courtesy of Bombay Masala