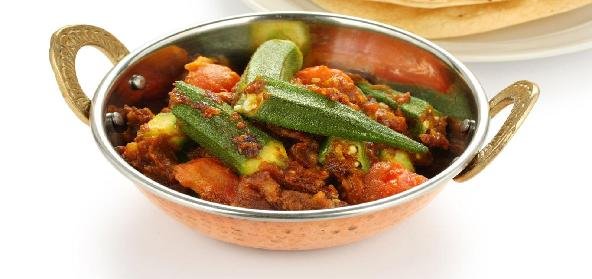 Ingredients:
• 250 g – Okra
• 2 -potatoes, medium
• 1/2 tsp – Jeera
• 1- onion, sliced
• 2 tbsp-oil
• 1 tsp-pepper powder
• 1/4 tsp – Haldi
• Coriander leaves
• salt
Method:
Cut okra and potatoes into wedges.
Grind pepper and jeera to a paste.
Heat the oil. Add jeera, then add onions and fry till golden.
Now add the potatoes. Fry till half done.
Next add the okra.
Stir, cover the dish and cook till it is soft.
Sprinkle water when necessary.
Towards the end add the paste, salt and haldi.
Stir for a minute and remove.
Garnish with chopped coriander leaves.
Serve with parathas or naan.
Recipe courtesy of Bethica Das