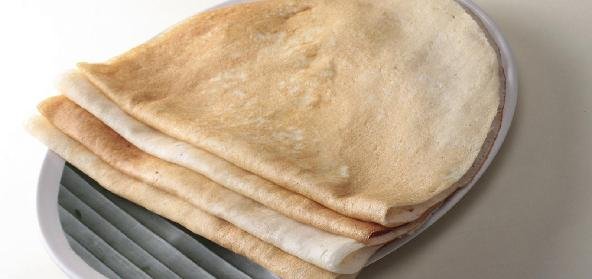 Ingredients:
• Bengal Gram (chana dal) – 3/4 cup
• Toor Dal – 2/3 of a cup
• Urad Dal – 1/4 of a cup
• Par boiled Rice – 1/2 cup
• Raw Rice – 1/2 cup
• Green chilli – 1 big or 2 small
• Dry Red Chillies – 3 to 4
• Hing – A generous pinch
• Salt to taste
• Oil for shallow frying
• For the topping:
• Finely chopped Onions
• Grated fresh Coconut
• Finely chopped Coriander leaves
• Curry leaves
• Butter
Method:
Soak the dals and rice separately for 2 hours.
Grind dals, rice and green and red chillies to make a coarse batter.
Add hing and salt to the batter.
Heat a thick tava.
Using a ladle pour the batter to make a small pancake maybe of 4-inch to 5-inch in diameter and at least 1/2-an-inch thick.
Add the finely chopped baby onions, grated coconut, curry leaves and dhania on top.
Make two small holes with a skewer and pour some drops of oil into it.
This is done for even cooking.
Add drops of oil on the outer edge of the adai as done for dosa.
Ensure that the heat is moderate, as it takes a little time to cook.
Now, turn over the adai and cook the other side.
Remove from fire when done and spread some butter over it before serving.
Recipe courtesy of Vidhya