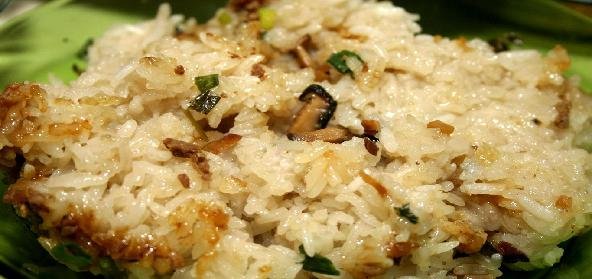 Ingredients:
• 2 cup- cooked Rice
• 1- Onion sliced
• 2 -tbsp oil
• 1/2 tsp- Mustard Seeds
• 1- Green chilli chopped
• 1 tsp- chopped Garlic
• salt
• pepper powder
• 1 tsp- fresh coriander, chopped
• 2 tsp- juice of Lime
Method:
Heat oil in a wok, add mustard seeds, green chillies and let it splutter.
Now add the garlic and fry till it turns golden brown. You should now put in the sliced onions and saute till they are golden in colour.
Add the salt and pepper powder, put in the rice and mix well.
Put off the stove and mix the lime juice well with the rice.
Garnish with freshly chopped coriander and serve hot.
Recipe courtesy of sapnav