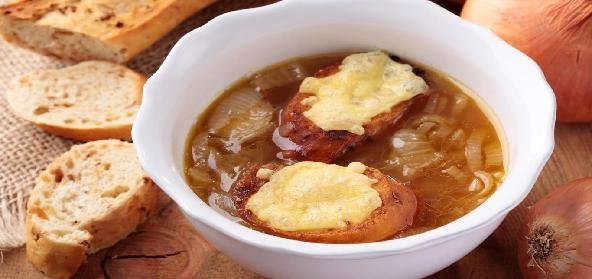 Ingredients:
• Onions, finely sliced – 700 gms
• Beef/chicken stock 1 litre
• White wine – 300 ml
• Bread slices 6 nos.
• Cheese, grated – 150 gms
• Butter – 85 gms
• Nutmeg, grated 1 pinch
• Parsley as required
• Pepper, ground as required
• Salt as required
Method:
Heat the butter in a pan, add the onions and saute for a while.
Then cover and let it cook for sometime.
When the onions become soft, remove the lid and stir.
Now add the stock, wine, pepper, nutmeg, salt and bring to a boil.
Cover again and simmer over a low heat.
Place the bread slices on a baking tray and bake for a few minutes or till the bread turns light brown in colour.
Serve the soup in a bowl, garnished with a slice of browned bread and grated cheese.