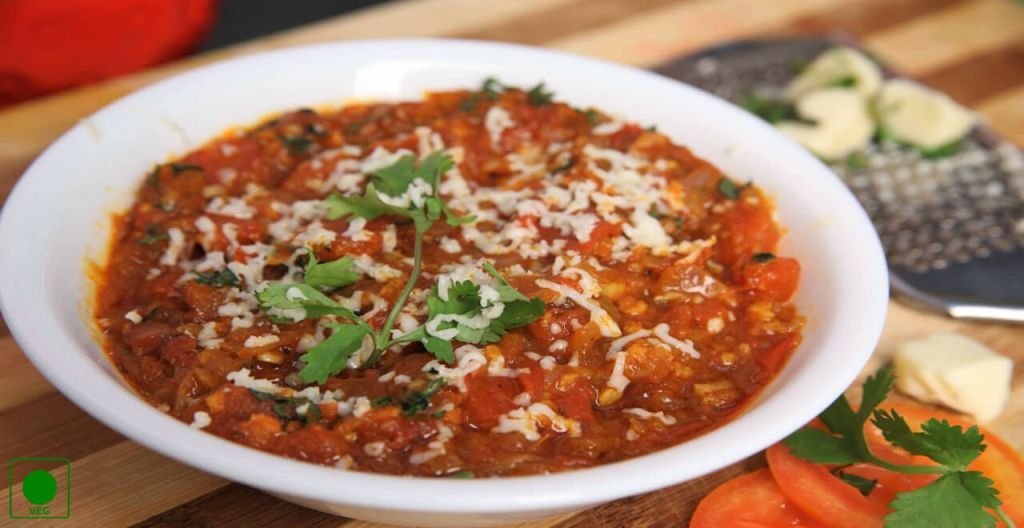 Gujarati people are very much foodie and they love to experiment with food very much. They try to make food always in different manner. Mostly they like sweet and sour food. So today we coming up with such kind of and that is Onion Tomato Sabji. Basically in Gujarati, it is called Dungali Tameta Nu Shaak'. Onion Tomato sabji is a best option when you don't have much vegetables at home to cook. You can instantly make this sabji and can enjoy your meal. This sabji is every household recipe and generally you can have this sabji with khichdi and paratha or roti.
Ingredients
– 1 cup chopped tomatoes
– 1 cup chopped spring onions
– 1 1/2 tablespoons oil
– 1 teaspoon red chilli powder
– 1/2 teaspoon mustard seeds
– 1/2 teaspoon cumin seeds
– 1/2 teaspoon turmeric powder
– 1/2 teaspoon asafoetida
– 1/2 teaspoon sugar
– 1 teaspoon of coriander & cumin seeds powder
– Some fresh coriander leaves
– Salt to taste
How To Cook?
1. Heat the oil in a pan.
2. When oil is heated, add mustard seeds and cumin seeds to it. Allow them to splutter.
3. Then add tomatoes and saut? it for about 20 seconds then cover it and cook it over MEDIUM-LOW heat for 2 minutes.
4. After 2 minutes remove the lid and add turmeric powder, asafoetida and salt. Mix well.
5. Again cover it and cook it for another minutes.
6. When the tomatoes are half cooked at that time add spring onions, red chilli powder, coriander and cumin seeds powder. Stir again well.
7. Cover it again and cook it one more time for another two minutes.
8. After two minutes your onion-tomato sabji is ready. Transfer it in a serving bowl and garnish it with coriander leaves.
9. Have this delicious sabji with paratha or phulka roti.
Preparation Time: 10 Minutes
Cooking Time: 5-10 Minutes