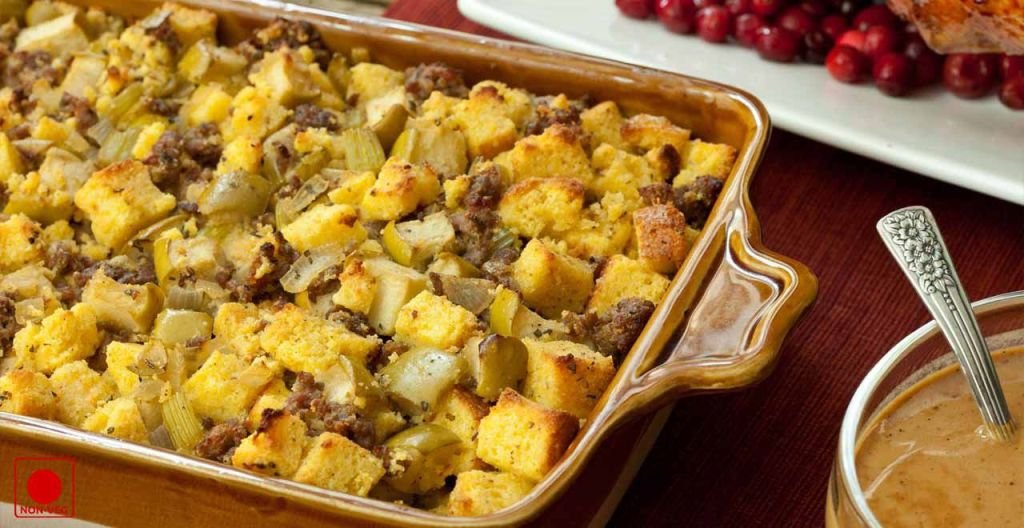 Oyster and cornbread combine taste best and it's a classic combination for thanksgiving stuffing. Enjoy this oyster cornbread stuffing recipe.
Ingredients
– 1 cup celery
– 2 large chopped onion
– 1/2 tablespoon poultry seasoning
– Salt, pepper to taste
– 1/2 teaspoon paprika
– 1 cup parsley
– 8×8-inch pan of cornbread
– 4 dozen small shucked oysters, drained
– 2 eggs
– 1 cup butter
– 1 cup low sodium chicken broth
How To Cook?
1. In a frying pan add 2 tablespoon butter and let it melt on MEDIUM heat. Then add onions and celery to it and cook it for 5 minutes.
2. Now, pour them into the chicken broth and then add poultry seasoning, pepper, salt and paprika to it.
3. Now, add oysters into the mixture and cook it till the chicken broth and oysters becomes hot.
4. In another bowl beat the eggs and then add ? cup butter to it and mix them. Then add cornbread to it and mix them well.
5. Now, add the skillet to the cornbread mixture and mix them together.
6. Now, add parsley to it and stir until it's all combined and mixed well.
7. Now, pile the mixture into a baking dish and bake it at 170 C for 30 minutes.
8. Once it's ready serve hot.
Preparation Time: 40 Minutes
Cooking Time: 1 Hours