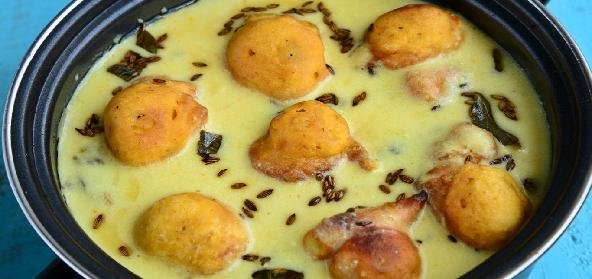 Ingredients:
• For Pakodi :
• 1/2 cup – Besan
• 2-3 – Green chillies, finely chopped
• A pinch – Ajwain
• A pinch – Salt
• A pinch – Sugar
• A pinch – Jeera powder
• A few tbsp – Oil
• For Raita :
• 500 g – Sour curds or Yoghurt
Method:
In a bowl, mix all ingredients for pakodi with water till it reaches a thick consistency.
Make small balls of this dough and fry in oil till golden brown. Keep aside.
In another bowl take the yoghurt and beat with a whisk till it reaches a creamy consistency.
Add some salt as per taste.
Add these fried pakodas to the yoghurt some 3-4 minutes before serving .
Then it will be slightly crispy.
Garnish with finely chopped mint for a tangy flavour.
Recipe courtesy of Arcot Supriya