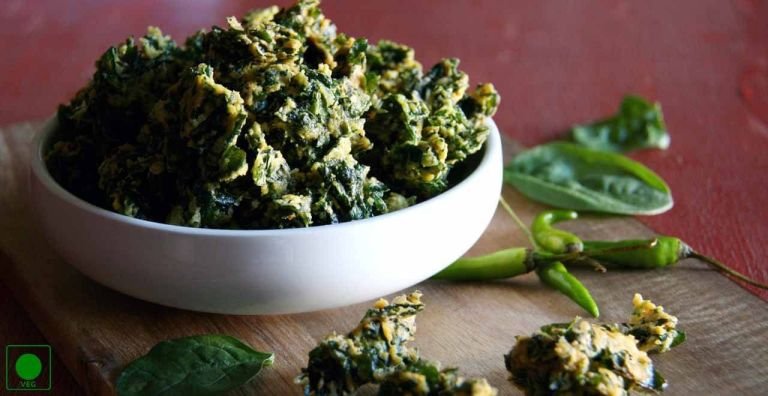 Palak Pakora, or spinach fritters is a yummy teatime snacks recipe. It's a monsoon and winter recipe that is very easy and quick to make. In monsoon time, people are creacking to eat something hot and crunchy with their hot tea. Fritters are very easy and you can make it instantly. You can make various kind of pakoras like, cauliflower pakora, onion pakora, dalwada, potato fritters and more. Today I am sharing one of the healthy yet delicious fritters recipe, Palak Pakora Recipe. It is made from fresh palak (spinach), besan, green chilies, onion and other Indian spices.
Ingredients
– 2 cup Palak (spinach) leaves, chopped
– 1 cup chopped onion
– 2 tablespoon chopped coriander leaves
– 1 tablespoon chopped green chilies
– Oil for deep frying
– 2 cup besan (chickpea flour)
– 1 tablespoon garlic ginger paste
– Salt to taste
– 1 teaspoon chili powder
How To Cook?
1. Take a spinach leaves and wash them properly then finely chop them.
2. Take a bowl and add chopped onion, salt, spinach, ginger-garlic paste, coriander leaves, besan, red chili powder, 1 teaspoon oil and besan and mix them well.
3. Now, in a deep frying pan heat the oil over the HIGH heat.
4. Then reduce the heat to MEDIUM and drop besan balls into the hot oil with your hands or you can use spoon too.
5. Deep dry the palak pakora until golden brown. Once it's ready remove it from the oil and drain them on an absorbent paper.
6. Enjoy the hot Palak Pakora with coriander chutney or tomato sauce and hot tea.
Preparation Time: 15 Minutes
Cooking Time: 20 Minutes
Servings: 4 Persons