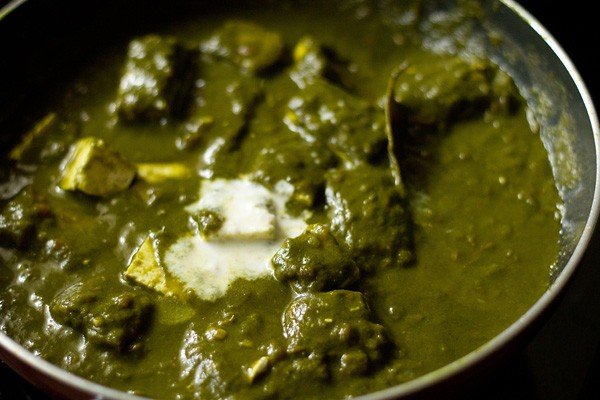 A famous Paneer delicacy in spicy spinach gravy
Ingredients:
1 1/4 cup (250 gm) chopped spinach
1 1/4 (250 gm) paneer (cottage cheese)
1 chopped onion
1 teaspoon ginger-garlic paste
1/2 cup chopped tomatoes
2 chopped green chilies
1/2 teaspoon cumin seeds
1 bay leaf
1 green cardamom
2-3 cloves
1 small piece of cinnamon
1/2 teaspoon garam masala powder
1/2 teaspoon turmeric powder
1/2 teaspoon red chilli powder
3-4 tablespoon cream (optional)
2 tablespoon oil
Salt to taste
Method:
1. Heat oil in a pan (kadhai) and fry paneer (cut into small cubes) over medium heat until light golden brown.
2. Remove from oil and keep aside.
3. Heat remaining oil in a pan (kadhai), add cumin seeds, bay leaf, cinnamon, cardamom, cloves and fry for a minute.
4. Add ginger-garlic paste and fry for another minute.
5. Now add green chilies, chopped onions and fry until golden brown.
6. Add chopped tomatoes and fry until oil separates. Add red chilli powder, garam masala powder, turmeric powder, salt and mix well.
7. Now add spinach and cook for 5-7 minutes. Remove from heat and keep it to cool.
8. Make a smooth paste of the spinach mixture in a blender. Add just enough water to make thick paste.
9. Boil this paste in for about 2-3 minutes and finally add fried paneer cubes.
10. Garnish with cream.
Cooking time: 30-35 minutes