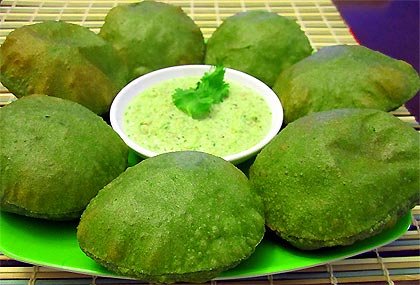 Fried and puffed flour puri with spinach and spices
Ingredients:
1 1/2 cup whole meal (wheat) flour
1/2 cup gram flour (besan)
1 cup washed, finely chopped spinach (palak)
2 teaspoon ajwain (carom seeds)
2-3 tablespoon oil
1 teaspoon red chilli powder
Salt to taste
Water for kneading
Oil for deep frying
Method:
1. Cook spinach until tender and no water remains.
2. Sieve wheat flour, gram flour and salt together. Mix ajwain, red chilli powder, cooked spinach and oil well using your hands.
3. Add little water at a time and knead to make a stiff to medium dough. Cover with a muslin cloth and keep for 10 minutes.
4. Divide into small balls of equal portions. Roll out each ball into small round puris.
5. Heat oil in a wok (kadahi) and fry puri one by one until puffed and light golden brown. (Gently pressing the center of the puri down in the oil, helps the puri to puff up)
6. Remove and drain on absorbent paper.