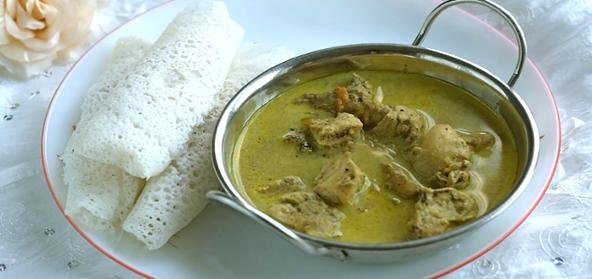 Ingredients:
• Rice – 2 cups (420 grams)
• Water – to soak the Rice
• Water – enough to grind to a pancake batter
• Cooked Brown Rice – 1 cup (185 grams)
• Freshly Grated Coconut – 1 cup (about 100 grams)
• Rice Flour – 2 tbsp
• Water – 100 ml
• Allinson Dried active yeast – 7 grams (21/2 tsp)
• Brown sugar – 1 tbsp
• Lukewarm Water (36 – 40 degrees C) – 20 ml
• Salt – to taste
• Oil – 10 ml
Method:
Soak the washed rice in water overnight (at least 8 hours) prior to grinding.
Prepare the rice paste by bringing 100 ml water to boil (reduce flame to medium) and adding the 2 tbsp rice flour and stir continuously till you reach a thick creamy paste.
Keep aside till required.
In a 500ml size bowl or glass, take 20ml lukewarm water and dissolve the brown sugar.
Sprinkle the yeast, cover with a cling film and leave it for 15-20 minutes until it becomes creamy and bubbly.
Grind the rice to a smooth paste adding water, in batches. In the last batch add grated coconut, cooked rice and the rice paste and grind to a smooth paste. By adding rice paste at this stage it prevents lumps and evenly spreads through the dough.
Fold in the yeast to the rice dough carefully. Care must be taken here, as the carbon dioxide produced by the yeast is what allows your dough to rise.
Do not add salt at this stage.
Cover and leave for 24 hours to rise (This is enough in hot countries, but in colder regions heat your oven to a temperature of 30C and leave it in.
It is ideal to have a basic kitchen timer in hand. Set it to 4 minutes.
Add salt to taste, to the dough, mix well.
Heat appam pan and apply a light coat of oil, take ¾ ladle dough, pour it in the centre and spread it in clockwise motion to make a neat circle.
Set timer to 4 minutes till the edges have become golden crisp and start lifting off the wok. The centre should be soft and spongy. A well-fermented batter will form small lacy holes all over the appam while cooking.
Repeat for each appam. It is faster to have 2 pans going at the same time.