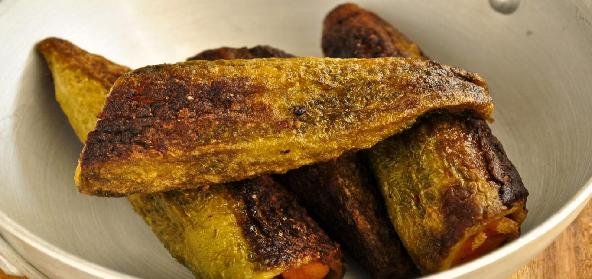 Ingredients:
• 5 – Karelas (Peeled , washed & deep fry)
• 250 g – Paneer
• 1 – Onion (medium)
• 1 – Tomato (medium)
• Oil for Deep frying
• Salt to taste
• Red Chilli powder-As spicy as you want
• 1/4 tsp – Turmeric powder
• 1/2 bunch – Coriander leaves
• 1/2 tsp – Garam Masala
Method:
Crumble the paneer and add spices, salt and red chilli powder to it. Now, fill the karelas with this paneer.
Take a little oil in a karadi and fry chopped onions till transparent.
Now add chopped tomatoes and fry for just a minute.
Add the dry spices in the tomatoes (salt, pepper and turmeric).
Add the stuffed karelas to the kadai and mix well.
Make sure the stuffing doesn't come out.
Let it fry on medium fire for 10 mins, stirring occasionally.
Now add chopped coriander, garam masala and serve hot with any dals/curries.
Recipe courtesy of Sify Bawarchi