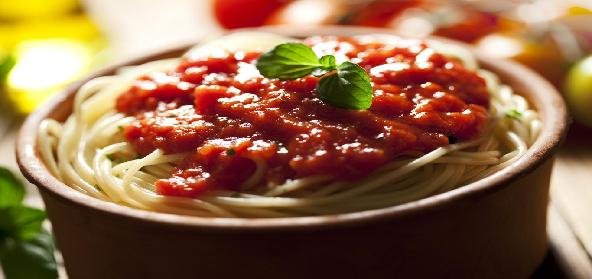 Ingredients:
• 2 lbs fresh Tomatoes, or 2 (14 ozs.) can Plum Tomatoes with juice, chopped.
• 1 medium onion, finely chopped.
• 1 medium carrot, finely chopped.
• 1 stalk celery, diced.
• 2/3 cup – dry white wine (optional).
• Parsley springs.
• pinch of sugar.
• 1 tbsp – chopped fresh oregano.
• 12 ozs Pasta of your choice.
• freshly grated parmesan cheese to serve (optional).
• salt and freshly ground pepper.
Method:
Put vegetables, wine, parsley, salt, pepper and sugar in a medium saucepan.
Bring to a boil and simmer, half covered for 45 mins until very thick, stirring occasionally.
Pass mixture through a sieve or puree in a blender and sieve to remove the tomato seeds.
Stir in the chopped oregano, then taste and adjust the seasoning, if necessary.
Reheat gently.
Bring a large pan of salted water to a boil and cook pasta according to package instructions until tender but firm to the bite.
Drain well and toss with the hot sauce.
Serve at once, with grated Parmesan cheese if desired.