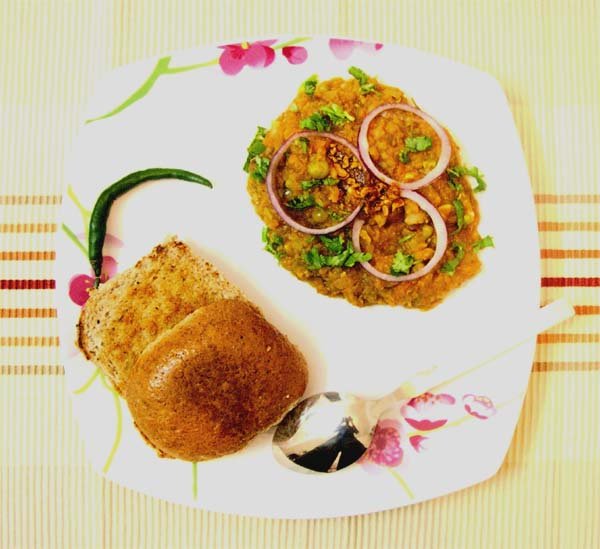 A popular Indian preparation of mashed vegetable and potatoes in spicy masala, served with fried pav bread
Ingredients:
For Bhaji
1 medium onion, finely chopped
3 spring onions, finely chopped
1 large capsicum, finely chopped
3-4 green chilies, finely chopped
2 teaspoon garlic paste
1 cup chopped tomatoes
2 medium sized, boiled and mashed potatoes
2 cups mixed vegetable (cabbage, peas, carrots, cauliflower), finely chopped
3-4 tablespoon pav bhaji masala
2 tablespoon lemon juice
1 teaspoon red chilli powder (as per taste)
1/2 teaspoon turmeric powder
1/2 cup chopped coriander leaves, 1 tablespoon lemon juice, chopped onions for garnishing
4 tablespoon butter or oil
Salt to taste
For Pav
Pav breads
Pav bhaji masala for sprinkling
Butter for shallow frying
Method:
1. Heat butter or oil in a pan, add garlic paste and saute for half a minute.
2. Now add onions, capsicum and fry for 3 minutes, over high heat.
3. Now add spring onions and fry until golden brown.
4. Add turmeric powder, mixed vegetables and fry for another 2-3 minutes.
5. Add salt, reduce the heat to low, cover with lid and cook until vegetables are tender.
6. In a separate small pan, heat 1 tablespoon butter or oil, add pav bhaji masala and fry for 1-2 minutes or until a nice aroma comes.
7. Now add chopped tomatoes and fry until oil separates.
8. Add the tomatoes mixture into the cooked vegetables, red chilli powder and fry for 2-3 minutes.
9. Now with the help of a masher, mash the cooked vegetables to a smooth paste.
10. Add mashed potatoes, 2 tablespoon lemon juice, 1 1/2 cups water and mix well.
11. Let it simmer on low heat for 5-8 minutes.
12. Garnish with lemon juice, chopped coriander and onions.
13. Cut Pav Bread into two halves.
14. Spread butter on inner sides, sprinkle with pav bhaji masala and place the butter side of the bread on a griddle (tava).
15. Apply butter on the upper side and shallow fry pav breads until golden brown.
16. Press bread with a masher for a bit of crunchiness, while cooking. Similarly cook all the pav breads and serve with bhaji.
Cooking time: 40-45 minutes