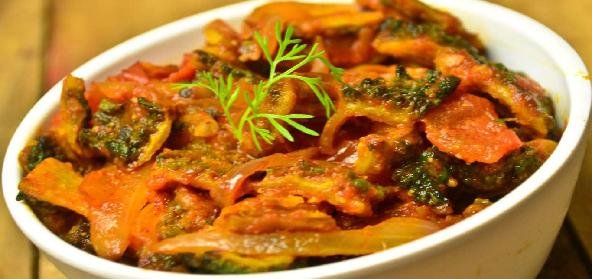 Ingredients:
• 5 – pavakai or karela.
• 5 tbsp – coconut, shredded.
• 7 – small onions.
• 1 – tomato, medium (optional).
• 1/5 tbsp – khus khus.
• 1/2 tsp – Turmeric powder.
• 1 tsp – chilli powder.
• 1.5 tbsp – coriander powder.
• 1 – tamarind, small Lemon size.
• 1/2 tsp – mustard for tampering.
• 6-10 – curry leaves.
• salt as per taste.
• 3 tbsp – oil.
Method:
Soak the tamarind in 1/2 cup warm water.
Wash and cut pavakai into small pieces removing all the seeds.
Add salt to it, keep it aside for 30 mins.
Cut the onions and tomato to small pieces.
Grind coconut, khus khus and tamarind to form a smooth paste.
Add masala powders and salt to the ground mixture.
Put the mixture in 1 cup of water and preserve the liquid.
Heat 1 tbsp oil in a kadai.
Squeeze water out of the Pavakai and add it to the hot oil.
Fry the pavakai till it becomes semi-prepared.
Remove it from the kadai.
Add 2 tbsp oil to the same kadai.
Add mustard to the oil.
Add curry leaves to it once it stops spluttering.
Add onions and keep stirring till the onion becomes soft and starts changing colour.
Then add tomato and stir for 2 minutes.
Add the ground mixture and the reserved the liquid from the mixture.
Once the masala starts boiling, add the pavakai and stir the mixture once.
Put a lid and let the pavakai cook.
Keep cooking till pavakai is well done and the mixture has a semi-solid consistency.
This can be used as a side dish or as a main dish to go with plain white rice.
Recipe courtesy of Lavanya