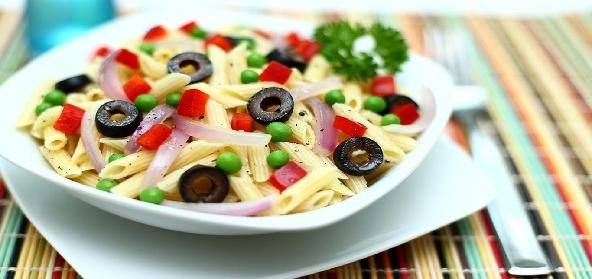 Ingredients:
• 1/2 – green bell pepper (cut into strips).
• 1/2 – red bell pepper (cut into strips).
• 1 – medium sized carrot.
• cut into strips: French fries.
• 7-8 -asparagus stems boiled and quartered.
• 1.5 – pints of heavy cream.
• 1/2 cup – Milk (might be needed to even out consistency).
• black pepper to taste.
• salt to taste.
• 4 cups – penne Pasta (dry).
• 2 tbsp – Olive oil.
• 1 tsp – parmesan cheese.
Method:
Boil pasta and leave aside. Cut vegetables as directed.
Put olive oil into a hot pan.
Put all your vegetables in the hot oil and saute until all the vegetables have been coated with oil and it softens a little.
Put heavy cream into the pan until it comes to a boil.
Add the pasta to the pan, cook under high flame till pasta is coated with heavy cream and the cream thickens.
Serve immediately after garnishing with parmesan cheese.
Recipe courtesy of Muskaan