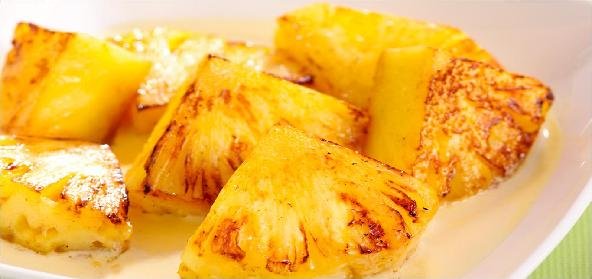 Ingredients:
• 1 – medium pineapple, skinned, de-eyed, sliced
• 5 to 6 – whole salad leaves
• 2 flakes – Garlic crushed
• 1/2 tsp – crushed dried or fresh herbs
• 1 tsp – Brown sugar
• 1/2 tsp – brown Vinegar
• 1/2 tsp – pepper powder
• 1/2 tbsp – Olive oil
• salt to taste
Method:
Heat oil in a flat bottomed non-stick pan.
Add garlic, sugar, stir, and vinegar.
Add salt, pepper, herbs, stir.
Add pineapple slices, toss them till coated all over.
Arrange single layer in the base of a pan, sizzle for a minute.
Flip sides, sizzle other side as well.
Arrange the slices in a serving plate line with chilled salad leaves.
Serve with a dash of Tabasco if desired.
Shelf life: Best fresh or chilled.
Recipe courtesy of Saroj Kering