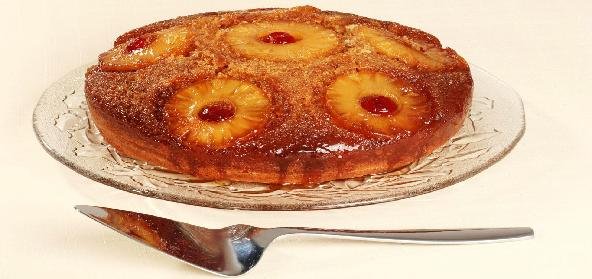 Ingredients:
• 1/2 cup – fine semolina.
• 1/2 cup – butter.
• 1/2 cup – powdered sugar.
• 1/2 cup – powdered cashew nuts.
• 2 tsp – baking powder.
• 2 – eggs.
• 5 tbsp – milk.
• 1/2 tsp – Pineapple essence| For Syrup:
• 1 cup – sugar.
• 150 ml – water.
• 1 cup – fresh pineapple, chopped finely.
• 1 tsp – mixed spice powder (cloves, cinnamon, nutmeg).
Method:
Beat butter and sugar till light and fluffy.
Beat in the eggs, one at a time, beating well after each addition.
Beat in the pineapple essence.
Mix semolina with cashew nut powder and baking powder.
Add this mixture to the butter-egg mixture.
Place the prepared cake batter in a greased deep ring mould and bake at 220 C for 10 minutes.
Reduce temperature to 180 C and bake for about 25 mins, till done.
For syrup:
Heat sugar and water together till sugar is dissolved.
Add pineapple pieces and spice powder and simmer for 4 mins.
Strain and keep the syrup and pineapple separately.
When the cake is done, cool in tin for 10 mins.
Invert on to a plate.
Pour half the syrup over it.
When it is absorbed, pour the remaining syrup.
Arrange the pineapple pieces on top and serve sliced.