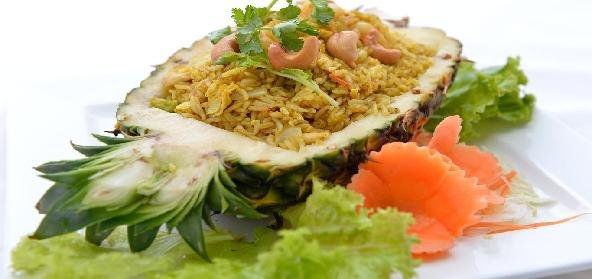 Ingredients:
• basmati Rice – 1 cup.
• fresh Pineapple – 1/2.
• Sugar or powder – 1/2 cup.
• Ghee – 4 tbsp.
• blanched Almonds powder – 1 tbsp.
• Saffron soaked in warm milk.
• cashewnuts, fried in Ghee – 12.
• raisins, fried in Ghee – 12.
• Pineapple essence – few drops.
• yellow food colour (optional).
• Cardamom powder – 1 pinch.
Method:
Wash and peel the skin and cut pineapple into very small pieces. Add sugar and cook in low flames with little water. When the pieces becomes soft, remove from fire.
Wash rice in cold water.
Heat 1 tsp of ghee in a pan and fry rice for 2 mins.
Cook in 2.5 cups of boiling water.
Reduce flame and cook till water evaporates.
Add sugar syrup and pineapple pieces, almond powder and saffron to the rice.
Mix well and add remaining ghee to the rice.
Add cardamom powder, a few drops of essence and stir well.
When moisture is absorbed completely, remove from fire.
Decorate with fried cashew nuts, raisins and grated dry coconut powder.
Serve hot or cold according to your wish.
Recipe courtesy of Bramaramba Chandrashekar