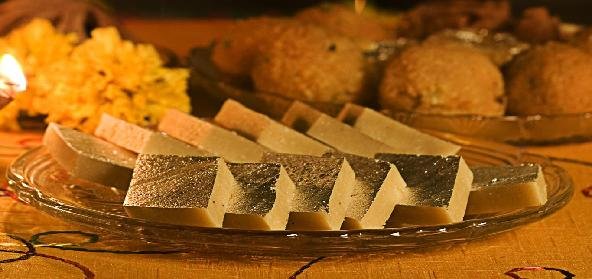 Ingredients:
• 100 g – cashews, soaked in water for 1.5 hours
• 100 g – powdered Sugar
Method:
Make a paste of the soaked cashews with very little water.
If too much water is used the kaju katli will become too soft and unmouldable.
Add the sugar to the kaju paste and stir well to mix the sugar.
Turn out the paste in a pan.
On a medium flame, stir the mixture constantly till the mixture starts leaving the sides and coming together.
Turn out the mixture in a bowl.
Cool this mixture, stirring constantly, till it becomes very stiff, like dough, and is completely cool.
Turn out the mixture on a sheet of plastic.
After 10 mins, roll out the dough with a rolling pin.
Cut into diamond shapes.
Recipe courtesy of Sheetal