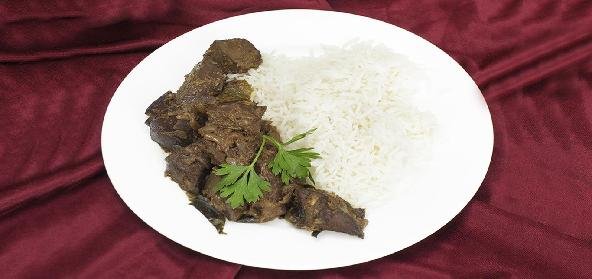 Ingredients:
• 1 whole fresh liver
• 1/4 cup each of moong and gram dal
• 1/2 cup basmati rice, washed clean
• 2 medium onions, thinly sliced
• 1 Onion small, chopped finely
• 1 medium carrot, thinly sliced
• 1 tsp chilli powder
• 1/4 tsp Turmeric powder
• 1/2 tsp pepper
• 2 tsps coriander powder
• 1.5 tsps finely ground Ginger
• 1 tbsp finely ground Garlic
• 1/4 cup thick Tamarind pulp
• 1 tsp Cumin seeds
• 6 Cloves
• 1- inch stick Cinnamon
• 4 white Cardamoms
• 1 Bay Leaf
• 3.5 tbsps oil
• Salt to taste
• 1 tbsp Mint leaves, chopped
Method:
Wash both the dals and keep them along with washed rice in a colander to drain out the water.
Heat 1.5 tbsps of oil on high flame.
Lower the flame to medium and season the oil with cumin seeds, cinnamon, cloves, cardamoms and bay leaf.
Stir for a while and put in the dals and rice.
Fry for 2-3 minutes and add the finely chopped onion, sliced carrots, pepper and salt to taste.
Fry for a while and pour 2 cups of hot water.
When it starts bubbling, make the fire medium.
Cover the pan and let it cook.
There should be just a hint of moisture in the mixture when it is cooked to the desired tenderness.
Cut the liver into medium-size pieces and wash them thoroughly with water.
Heat 2 tbsps of oil in a stainless steel dekchi, put in the sliced onions and fry to a deep golden color so that they become crisp.
Take them out by pressing them in between two flat perforated spoons.
Keep aside.
In the same oil, put in the liver pieces and fry briskly.
When the liquid almost dries up, add ground ginger and garlic, chilli, coriander and turmeric powders and enough salt.
Fry for a few minutes.
Pour 1 cup of warm water, power the fire and cover the dekchi.
Let it cook.
When the liver is cooked to the desired tenderness, pour the tamarind pulp and fry till almost dry.
Remove from fire.
In a serving dish, spread the rice-dal mixture in a thick layer.
Make a hollow in the middle and put the liver in it.
Garnish with fried onions and mint leaves and serve hot.
Recipe courtesy of Malini Bisen