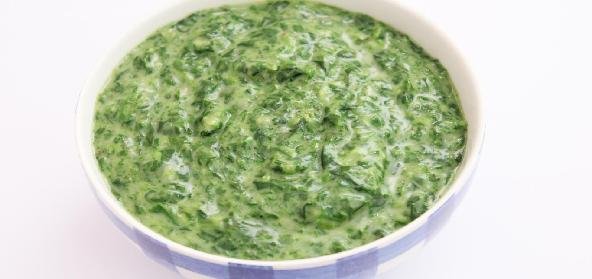 Ingredients:
• 1 large bunch Fenugreek greens
• 1 large Tomato chopped
• 1 tbsp oil
• 1/2 tsp Red Chilli powder
• 1/4 tsp Dhania powder
• 2-3 pinches Turmeric powder
• 2 pinches Asafoetida
• 1/2 tsp each mustard and Cumin seeds
Method:
Pick leaves of methi, chop coarsely, wash and drain.
Pour in 1 litre of boiling water, simmer for 2-3 minutes.
Drain, wash well in colander under running tap water.
Press out excess water, keep aside.
Heat oil in a pan, add seeds, asafoetida, allow to splutter.
Add tomatoes, all dry masalas, stir. Simmer till oil separates.
Add a tbsp. water, bring to a boil.
Add fenugreek leaves, mix well, cook on low till oil separates.
Serve hot with thin hot chappatis or phulkas.
Variation: Substitute methi with spinach or spring onions. These need not be boiled before adding to the recipe. Just chop fine, wash, drain and continue from there.
Recipe courtesy of Sify Bawarchi