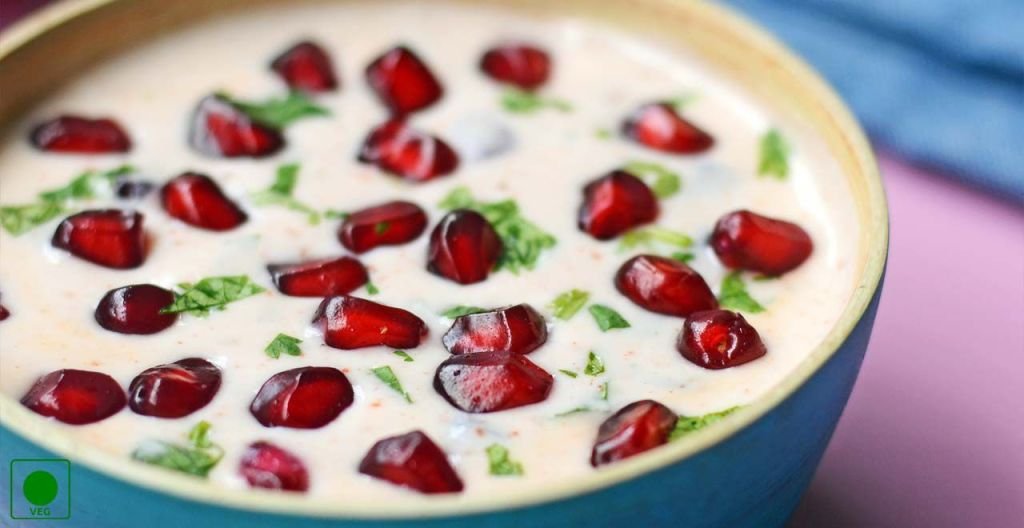 Pomegranate raita is combination of sweetness and savoury of flavours. This raita recipe is very easy and simple to prepare as compared to other raita. It is prepared with fresh pomegranate arils, chilled yogurt and seasoned with pepper powder and cumin powder. Learn the recipe to try out.
Ingredients
– 1 1/2 cups chilled yogurt
– 3/4 cup fresh pomegranate arils
– 1/2 teaspoon roasted cumin powder
– 1/4 teaspoon black pepper powder
– A pinch of black salt or rock salt
– Sugar as required
– A few coriander leaves
– A few mint leaves
How To Make?
1. In a bowl, whisk the yogurt till smooth.
2. Season it with roasted cumin powder, black pepper powder, red chilli powder, black salt and sugar.
3. Stir it till sugar is dissolved.
4. Now, add pomegranate arils and reserve a few for garnish.
5. Stir and transfer this raita to serving bowl and garnish it with coriander leaves, mint leaves and pomegranate pearls.
6. Serve chilled.
Preparation Time: 15 Minutes + Chilling