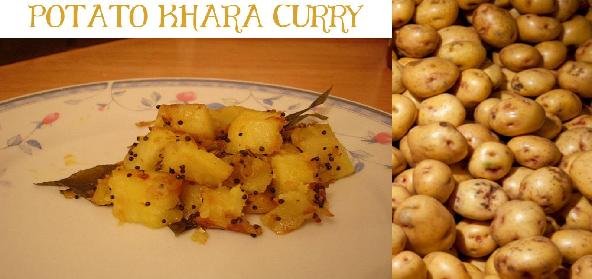 Ingredients:
• Potatoes – ½ kg
• dry red chilies 3 to 4
• Coriander seeds – 2 tsp
• Bengal Gram (chana) dal – 1 tbsp
• oil – 3 tbsp
• Mustard Seeds – 1 tsp
• black gram (urad) dal – 2 tsp
• salt to taste
Method:
Boil, peel and cut potatoes into 3 cm cubes.
Roast chilies, coriander and Bengal gram dal and powder coarsely.
Heat oil in a kadai. Add mustard.
When it begins to splutter, add black gram dal.
When the dal is brown, add potatoes, the powdered spices and salt. Mix well.
Cover and cook on low heat for 2 minutes.
Open the lid and cook stirring now and then for 5-8 minutes.