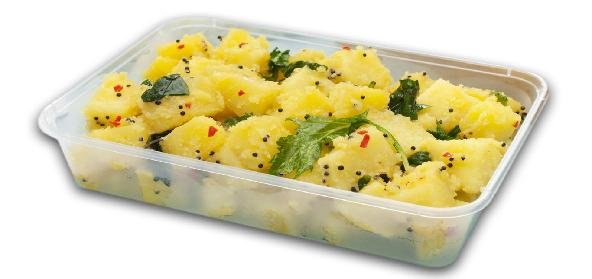 Ingredients:
• 2 lb (1 kg approximately) potatoes.
• 1.5 cups vegetable oil.
• 1/4 cup green shredded peppers.
• 2 tsp ginger, shredded.
• 1/2 tsp Garlic powder.
• 3 tsp mustard seeds.
• 2 tsp Jeera seeds.
• 1/4 cup sesame seeds.
• 3 tsp salt or to taste.
• 2 tsp sugar.
• 1 tsp garam masala.
• 1/4 bunch (finely chopped) coriander to sprinkle.
• Haldi powder (optional).
Method:
Boil potato in a pressure cooker till you hear 2 whistles (otherwise it will overcook) only. When the cooker is cool, get the potatoes out, remove skin and cut into pieces.
In a deep steel pan or non-stick pan, warm the oil. Add garlic powder, ginger and green peppers until soft.
Add mustard seeds, jeera seeds and sesame seeds.
After about 2 minutes, add potatoes and mix well.
Then, add salt, sugar, garam masala and haldi powder if you want the mixture to be yellowish and gently mix again a few times.
Sprinkle fresh coriander. You can also add raisins and cashew nuts on top for decoration.
Serve with poori or chapatti.
Recipe courtesy of Raj Patel