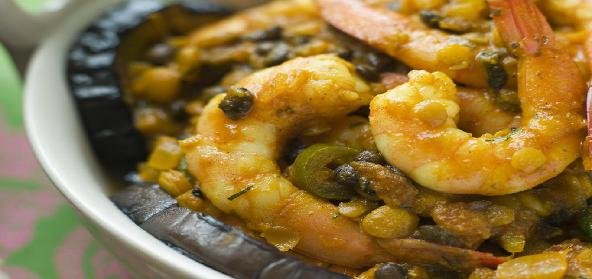 Ingredients:
• 1/2 kg – Prawns cleaned and de-veined.
• 4- medium size round Brinjals / eggplants.
• 1/2 tsp – Turmeric powder.
• 2 tsp – chilli powder.
• 1 tsp – cumin powder.
• 1 tsp – coriander powder.
• 3- Tomatoes chopped.
• 3 Onions chopped finely.
• Salt.
• 3 tbsp – oil.
• 2 tsp – Ginger Garlic paste.
Method:
Wash the prawns well.
Cut the brinjals into quarters and soak in water.
Heat one tbsp oil in a pan, add prawns and a pinch of turmeric. Stir fry till the prawns are half cooked and the water dries up.
Keep aside.
In the same pan, add the remaining oil and fry the onions till golden brown.
Now add the chopped tomatoes and ginger garlic paste and saute till the tomatoes are reduced to pulp.
Add the chilli powder, turmeric powder, salt, coriander powder, cumin powder and mix well.
Drop in the brinjals and the cooked prawns and stir-fry for a few minutes.
Add a little water and simmer for 10 mins till the gravy is thick.
Recipe courtesy of Bridget White