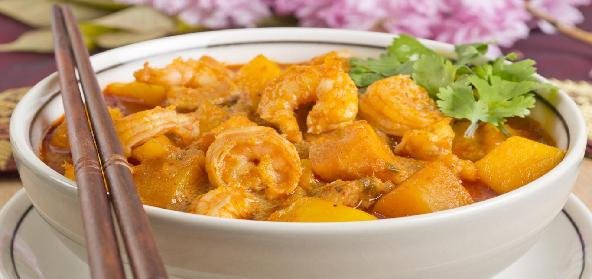 Ingredients:
• Sea Prawns – 2 lbs.
• 2 cups of Coconut milk.
• 1 large potato, diced into 1 inch cubes.
• 1 tsp Ginger Garlic paste.
• 1 medium sized onion, finely chopped.
• 1 tbsp chilli powder.
• 1 tbsp Turmeric powder.
• Salt, as required.
• Mustard oil, as required.
• Water, as required.
• Coriander leaves and green chillies, to garnish.
Method:
Wash the prawns thoroughly and cut them.
To marinate the prawns, use a pinch of turmeric, salt and keep aside for 10 minutes.
In the meantime, pan fry the potatoes. Keep aside.
Next pan fry the prawns, keep aside.
In a deep non stick skillet, heat 1 tbsp of mustard oil, add the ginger garlic paste and let cook for a minute or so.
Next, add the chopped onions and let cook till translucent.
Add the turmeric powder, chilli powder and cook for another minute or so until the raw smell of the spices vanish.
Next, add the potatoes to the spice mix, mix well and let cook for another minute.
Add the coconut milk, salt and lastly the prawns. Let cook covered until the potatoes and prawns are fully cooked.
Add water as required to maintain the consistency of your choice.
Garnish with coriander leaves and green chillies and serve hot with rice.
Recipe courtesy of Sonali