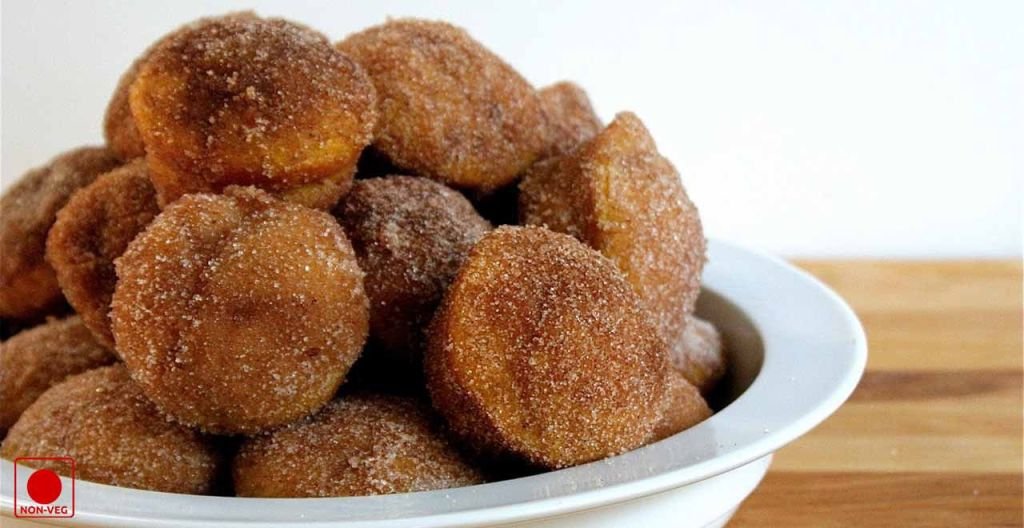 Easy, pumpkin muffins recipe dipped with sugar-cinnamon coating. It's a perfect holiday treat recipe to enjoy.
Ingredients:
For Muffins
– 1 cup unsalted butter
– 2 1/2 teaspoons baking powder
– 4 cup all-purpose flour
– 1/4 teaspoon baking soda
– 1 1/2 teaspoons ground cinnamon
– 1 teaspoon kosher salt
– 2 eggs
– 1/4 cup buttermilk
– 1/2 teaspoon ground ginger
– 1/4 teaspoon ground cloves
– 1/4 teaspoon ground nutmeg
– 2 cups pure pumpkin puree
– 1 cup light brown sugar
For the Toppings
– 1 cup unsalted butter
– 3/4 cup granulated sugar
– 2 teaspoons ground cinnamon
How To Cook?
1. Preheat the oven at 176C.
2. Take a standard muffin cups and spread butter and flour over it.
3. In a bowl, add flour and whisk it then add baking powder, salt, ground cinnamon, baking soda, ginger, cloves and nutmeg and whisk them well and keep it aside.
4. In another bowl add buttermilk and pumpkin and whisk them well.
5. Now, beat the brown sugar and butter till it becomes soft. Then beat one egg in this mixture and mix them. Now, add previously made flour mixture in this, then add pumpkin mixture to it and beat it and make a batter from it.
6. Now, pour this batter equally into the muffin cups and bake it for 30-35 minutes. Once it's done remove the muffins from the oven and set it aside to cool.
For Toppings
1. In a small bowl, combine sugar and cinnamon. Now, take one muffin from the pan and apply melted butter all over the muffin then toss the coat in the sugar-cinnamon mixture. Again place the muffins on the rack and let it cool.
2. Once the muffins are completely cool it's ready to serve and eat.
Preparation Time: 25 Minutes
Cooking Time: 35 Minutes
Servings: Makes 20-30 Muffins