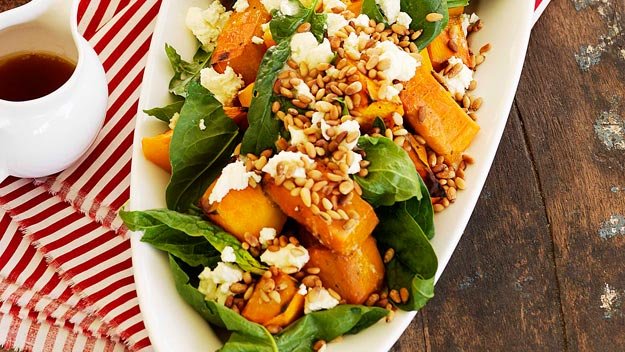 Salad for pumpkin lovers. It tastes sweet and savory. You can eat it with your main course. You can also add balanced green beans, cherry tomatoes to this recipe.
Ingredients:
– 1 kg pumpkin (peeled and cubed)
– 2 tablespoons water
– 3/4 cup walnuts
– 6 shallots (chopped)
– 1 tablespoon finely chopped parsley
– 1/2 tablespoon nutmeg
– Ground black pepper
– 1 cup mayonnaise
How To Cook?
1. Take a large bowl and place pumpkin in it. Add 2 tablespoons of water, cover and cook it for 10 to 12 minutes on HIGH flame or until pumpkin is just cooked, but still firm. Stir halfway through cooking.
2. Refresh by running cold water over pumpkin. Leave it to drain and chill.
3. Mix walnuts, shallots, parsley, nutmeg and pepper with mayonnaise.
4. Fold mayonnaise mixture gently into the pumpkin and sever chilled.
Preparation Time: 10 Minutes
Cooking Time: 30 Minutes
Servings: 6 -8 Person